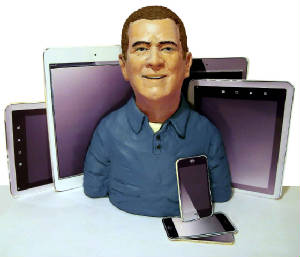 Marco Arment for Fast Company
"Little Clay Bits" Caldicott BLOG here:
Caldicott Dripbook sites here:
...........................................
5 heads for Entertainment Weekly, "Rock Gods" on the newsstand June 27
5 Heads for Field and Stream Magazine and one for Fast Company ... a busy February!
Donald Trump head coming out soon in New York Magazine! (Jan 2013)
A company based in Hong Kong stole my image of Steve Jobs, and are selling a knock off of the original on Ebay ..... Bad news!
One year later they are at it again !!! (December 2012)
*** Please be aware that any of my work that you may have seen on stock photography web sites, such as Associated Press Images, or any REX affiliate, does NOT have any right to be there.

Please contact Karen Caldicott directly if you wish to purchase licensing rights to images seen here or anywhere.



Kim Jong Il for Condé Nast Traveller Out now
3 busts of 3 composers, for McGill University Quebec Canada
In the UK TELEGRAPH Gaddafi and Jobs
3 gold clay illustrations for Harpers Magazine Oct. issue
"Aging of America" 12 Heads for AARP out now!
Up coming show in NYC "ROLLING STONE AND THE ART OF THE RECORD REVIEW"
at the Society of illustrators, opens September 9th Opening This fRIDAY!
Interview for a Buenos Aires blog / VisualMente
The McCafe print ads have won Gold at CreativClub Austria
3 print ads for MC Donalds in Vienna, via DDB Agency. Thanks Dian!
A nice head for WIRED Magazine, illustrating a David Mamet piece, out now.
George Washington (3ft high) for El Malpansante in Bogata, Columbia
Its been a busy month...... I just got married ! But I'm back in the studio now.
One large bust @ The Re Institute (one day only) Sunday, April 11th. 1 to 5pm 1395 Boston Corners Road, Millerton, NY
2 Heads will be on show at the Museum of Comics and Cartoon Art--MoCCA NEW YORK CITY March 12 - May 30th
Again .... Complex magazine, another set of heads to be published in the upcoming April/May issue.... Thanks AD. Tim L !
UK Crafts council has commissioned another head for on going use in their excellent monthly Crafts magazine, thanks Stephen!
Complex magazine, 4 more heads to be published in the upcoming Feb / March issue
Queen of Plasticine! HV BIZ. New York Nov.20th
The blog Revel in New York says "Better than Gumby"
Broken justice system The NATION paper sept. 16th issue
Mocoloco art blog calls KC "the queen of plasticine"
Four heads for Complex magazine out soon
Cool web site "lost in E minor" posted some work today
Interview by Canvas 8 in London. (subscription only!) Will post to blog later in week
A simple watercolor portrait for the Nation
See "the making of a legend" (Dan Jenkins Golf Digest) ....here:
Jim Jarmusch for a Canadian publication: 05/21/09
Interview @ Design Inspiration, Thanks to Jeff Andrews. 05/12/09
Limited editions now available in bronze (made to order) Please contact Caldicott for more info and prices
Portrait of Andrew Coumo for Business Week magazine, on the newsstands 1/5/09
A full page portrait in the June issue of Golf Digest, a great job, thanks to Art director Ken Delargo

PUB SHOW 5 Illustrators Feb. 28th : Details here
The German Agency Margarethe Illustration is now live , check it out here
Five editorial illustration spots for this weeks Nation 02/16/09
Netdiver added Caldicott to their 2008 top 100 list 02/10/09
Craft Magazine in the UK Interview out now. On sale at most Barnes and Noble stores (US) Jan/Feb issue
The New Yorker used 9 clay spots in dec.1 issue, look for the squirrel !
The Daily Art Muse posted a nice update
Boooooooom from Vancouver added the Simpsons family. Thanks to Jeff Hamada
Hillary and Sarah will be part of the political caricature exhibit at the New York Times building.

Thanks to Nicholas Blechman and Kim Bost.
See McCain in clay on the Morning News.org
The NATION cover here and now:
Newsweek magazine commissioned a pig ... but it got killed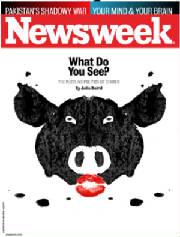 Four heads for Runners world coming out soon
GQ Magazine will publish one head on one big page.... out soon
The Daily Art Muse added some thing about these heads
See Mr Spitzer turn red here too
USA RISE UP commissioned Martin Luther King clay head, out Aug. 24th
Craft Magazine in the UK will publish 3 clay heads - late August
Joined the group "ten 15" a collaborative project.06/02/08
Caldicott is now a Gawker artist 05/15/08
Hillary disheveled on the Morning news.org
Check out the clay rabbit... Poetry Magazine's May issue.
Coudal Partners linked this site on their cool Fresh Signals website 04/23/08
Illustrophile.com posted some work 03/19/08
I Heart photograph.com presents "Is it possible to make a photograph of New Jersey regardless of where you are in the world?" South Orange, NJ opens April 6
Check out "netdiver" a digital culture magazine... they linked this site 02/28/08
"Oscar" New York Times, Arts and Leisure 02/24/08
Drawn.com the Canadian graphics site added Steve Jobs 02/09/08
"Its nice that" daily design blog added some thing about these heads 02/08/08
Juxtapoz posted some heads of mine 02/07/08
The Roadside Scholar writes ............ 12/13/07
Seconds.org, the online journal of contemporary art and its research (UK.) 12/07/07
CREATIVE REVIEW NOV. ISSUE on MYSPACE 11/04/07
The process /// Creative Review blog 11/12/07
Inside Story: The best illustrators published 23/07/07 'Independent' UK